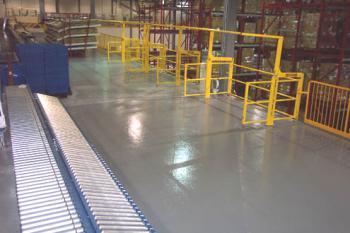 In an era where industry is decreasing its work force while simultaneously increasing the workload of each individual worker, plant supervisors generally do not have the time or labor required to properly look after their floors. This neglect can be costly.
Industrial floors need to be treated like any other piece of equipment and the key to a long-lasting life relies upon routine maintenance and upkeep. Scheduled inspections, and if necessary small patches, help to eliminate the need for larger more costly repairs. A small patch using fast setting materials can usually be performed without the plant shutting down or interfering with the normal day-to-day operations.
The floor systems we install are 1/8" to 3/8" thick and designed to provide a surface that is non-porous and ultra-dense. The coatings vary from modified polyester/vinylester systems for maximum corrosive resistance to decorative epoxy systems designed for commercial or light industrial applications. The topcoat can be altered to provide different colors and varying degrees of nonskid. Even our electrostatic or static dissipative flooring systems come in a range of colors.
Industrial Floor Protection Product line
Flooring and lining
Conductive and Static Dissipative flooring
Industrial Floor Protection Services
Maintenance Plans for Industrial Flooring: We offer a service plan that aims to eliminate the headaches that come with not paying attention to floors until it's too late. The core of our service plan involves an inspection every three months, beginning at the completion of the job and continuing through the agreed time period. All inspections will include a written detailed report on the status of the floors. There is no cost for these inspections. If it is determined that a problem area exists, we will quickly respond to see that a patch is made. The pricing is determined by a square foot basis.
The bottom line is that our maintenance program will reduces cost. Because it is established over a set period of time, the customer is "locked in" at fixed labor and material rates. Likewise, our experience and frequent inspections catch problems before they evolve into expensive, time-consuming projects.