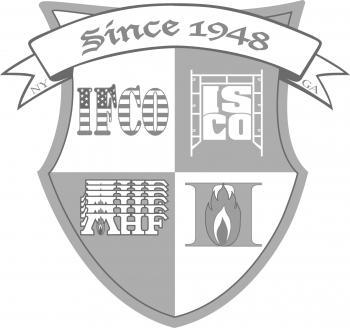 Industrial Furnace Company is a family owned company, founded in 1948. IFCO is made up of a four divisions, which gives our company the diversity and capabilities to make us a full service contractor, capable of handling all facets of industrial construction.
We have performed projects in 47 American states, Puerto Rico, Canada, Europe, Asia, Africa, and South America. With our offices in New York and Georgia, we pride ourselves in our ability to mobilize instantly and accommodate customers virtually anywhere. Our office personnel and skilled field crews are available 24 hours a day, 7 days a week.
We are distributors for a number of different companies, so we are able to pass on discounted prices to our customers. We are a contractor/installer for Harbison Walker Refractories (A.P. Green), Premier Refractories, Unifrax Ceramic Fiber, Envirocare VenturiPak Gas Scrubbing Systems, North American Manufacturing Combustion systems, and more.


Divisions: Industrial Furnace Company (main company), Industrial Scaffold Company, Multiple Hearth Furnace Services, and Industrial Incineration

Benefits of Choosing Industrial Furnace Company

Safety first
Our employees complete OSHA required courses and an IFCO Safety Training Course. Our safety training records are available upon request.

Engineering and technical services
We offer a full range of engineering services. Furthermore, we work directly with a number of American and International firms whose specialized abilities we can bring to bear on a project as needed.

Research and development
To provide our clientele with efficient and economical solutions, we are devoted to staying on top of modern industrial technology. The formula is simple: improved technology and product development equals customer satisfaction.

Facilities
Our 100,000 square foot warehouse stocks a full line of refractory products as well as furnace parts and castings. Our facility enables us to keep our customer's furnace downtime at a minimum and maintain an operation where saved time is saved money.

The divisions of Industrial Furnace Company, Inc. (IFCO) are capable of catering to a broad spectrum of industries in an effort to become the complete supplier and installer.

We offer a number of services that cover all facets of industrial construction:
Engineering and Technical Services
Controls and Instrumentation
Research and Development
Combustion Systems
Refractory Installation
MHF Services
Facilities
Corrosion Protection Systems
Boiler Repair Service
Fiberglass Corrosion Protection