Download information:
What is a Fluidized Bed Incinerator?
A Fluidized Bed Incinerator uses a bed of hot sand or other granular material to transfer heat directly to waste. It is commonly used for destroying municipal sludge.


Construction of a Fluidized Bed Incinerator
Sizing based on heat balance air and gas volumes
Auxiliary fuel choice (typically oil, gas, or dual fuel)
Overbed air option for highly volatile wastes

Improves reactor temperature profile
Improves efficiency in turndown conditions
Usually results in smaller dome diameter
Generally not required for hot windbox municipal sludge incinerators (overbed air is not preheated)


Fluidized Bed Incinerator Heat Recovery
Typical for municipal applications
Minimal auxiliary fuel requirements
Refractory dome distributor

Developed by Dorr-Oliver in the 1950s
Low risk design up to 22' diameter dome

Air preheater is a proven low-risk design
Typical preheated air temperatures to 1200°F (air preheat to over 1400°F is possible when required)


Material Movement in a Fluidized Bed Incinerator: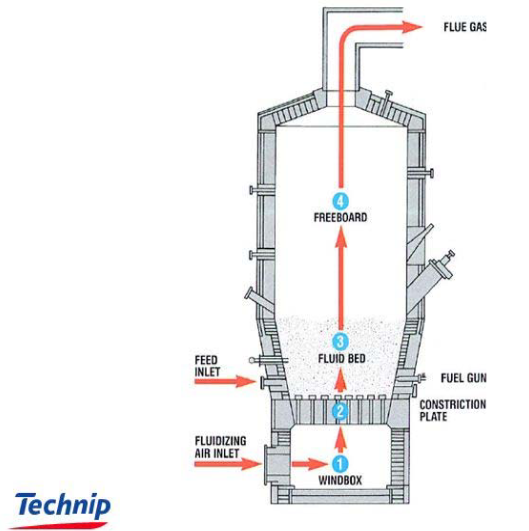 Fluidized Bed Incinerator Instrumentation and Controls
Fluidized Bed Incinerators can be built, or rebuilt with state-of-the-art control systems. Advanced Process Controls can be used to optimize the system for maximum product yield, product quality, and fuel savings.
Control packages can be customized to give the customer a fully automated machine, to a basic package that requires manual intervention at every step.
All systems can be automated.